High Lane Station

Disused for 50 years the station platform has now been cleared and reborn
as a leisure and information area for walkers and residents to use and enjoy.
Recently picnic tables have been install on the old platform.
High Lane Station was opened in 1869. The station was lit by oil for 101 years, never
receiving gaslight or electricity. It had a staff of 7.
The last train ran through the station on 5th January 1970.
The Canal Towpath
In 2018 HRLA initiated a project to establish a volunteer team to work with the Canal & River Trust to refurbish the canal towpath
between Andrew Lane and the A6. A team led by Ian Carpenter met weekly from February to October to complete work.
In addition to the towpath the steps at the Keswick Road bridge were also repaired plus a bench seat was fitted by the
Andrew Lane bridge in recognition of the work done by the 'towpath team'.
The path has been formally adopted by HLRA and monthly upkeep sessions are being coordinated by Ian.

Community Defibrillator
Following a successful campaign by the Residents Association in 2017 High Lane's first Community Public Access Defibrillator
has now been installed outside the Medical Centre at the Village Green.
This important medical equipment has been generously funded by a small group of donors who felt it would be fitting for
this to be provided in Dr Barber's memory, having been the local GP in High Lane for many years.
Open Link to gain instruction for use of Zoll Defibrillator https://youtu.be/Sc8KXAWDcHA
Hartley Woods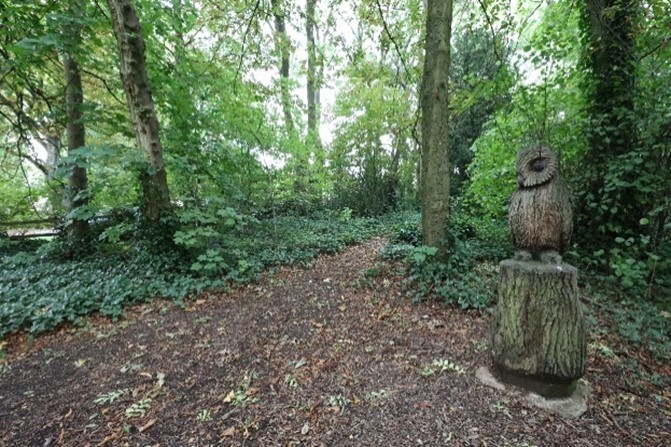 The Association managed to acquire the status of Community Asset,
preserving the area for years to come.
The woods are now divided into two parts either side of Alderdale Drive,
but were once the garden of a large house called Hartley House.
The house was surrounded by magnificent gardens,
shrubs and rockeries as well as the woodland.
DB 10.06.2022