HIGH LANE is the VILLAGE
where you have chosen to live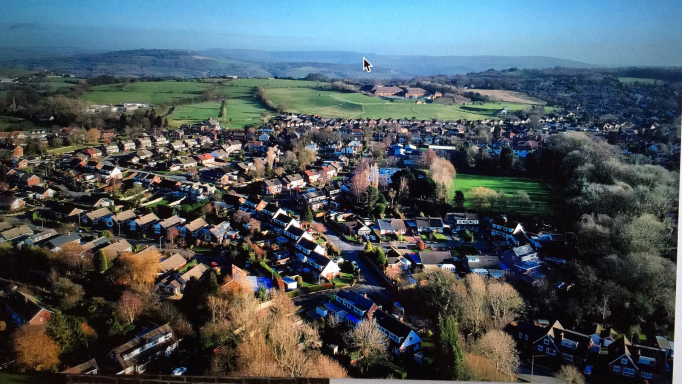 .
High Lane is a rural village within Stockport along the A6 road. It has some historical buildings
dating back as far as 1600s and is surrounded by Greenbelt and acricultural land.
It has a history of mining and an important canal network linking Marple, Macclesfield and beyond.
The old railway line to the west is now Middlewood Way – a popular recreational route for walkers and riders.
Every resident is entitled to have their say on any topic whether at our meeting, by letter, e-mail, phone or response to a questionnaire.
The RESIDENTS' ASSOCIATION meetings are a chance to debate issues with your local Councillors or to request action from a Council Department.
You can raise issues or comment at any time using contact@hlra.org.uk
Coming Events All At High Lane Village Hall (full details will follow)
10th September 90 Years of High Lane Residents Association.
Afternoon Stalls By RA, HLNVF, WI, Book Sales, Knitted Novelities, Local Businesses, Cakes, Tea/Coffee plus more. OPEN DOOR
Evening Music Night Music Folk and Modern, Fun Quiz, Supper, Bar. TICKET ONLY
-----------------------------------------------------------------------------------------------------
11th September Queens Platinum Jubilee
Afternoon with Hawk Green Brass Band
Stalls Cakes, Tea/Coffee plus more. OPEN DOOR
-----------------------------------------------------------------------------------------------------
Wednesday October 7th October High Lane Residents' Association AGM
RA Report to residents, High Lane U3A Choir, Guest Speakers. (local organisations)
Local Organisations wishing to speak need to contact the HLRA
Residents wishing to donate their annual subscription can do so on the Saturday Afternoon 10th September at our AGM or by putting the money in an envelope (put your name on it if you wish) and put through the door at-
35 Grasmere Crescent, 56 Andrew Lane, 18, Rostherne Ave
We suggest a contibution of £5 per household but any contribution is appreciated.
A huge THANK YOU to those residents who have already generously donated.
The Residents' Association requires volunteers for the various on-going projects.
Please contact us on contact@hlra.org.uk
Updates to the website include -
Lastest Minutes for August 22 Meeting
Police News Letter for June see Police Report.
New Projects for this year - VOLUNTEERS NEEDED
Reporting Matters to SMBC (Litter, Paths, Roads)
Police Update and A6 Bollards in News
New permits required for vans, pickups and trailers at refuse sites
Stockport Local Plan
UPDATE on Clean Air Zone on A6 see Environment
Defibrillator use
Latest Road Works See News
We hope you find this new website interesting and informative. We welcome any feedback, suggestions or contributions such as old photos or stories about High Lane that you as a resident would like to share.
The next meeting of the Residents' Association will be on Thursday 1st September 2022, 8.00pm at the Village Library
DB 10/08/22
Contact Information
High Lane Library Buxton Road High Lane
Stockport
Cheshire
SK6 8DX